Pulp Alley Development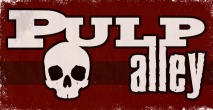 Welcome to the Pulp Alley home page!

We continue to move forward with the development of our exciting Pulp Alley game. There is still more to write and playtest, but we've come a long way! Our hope is to have the basic Pulp Alley book ready for release in 2012.
Likewise, this site is under construction as we test out different ideas....
Please feel free to contact us with questions, ideas, and suggestions. Or join our Pulp Alley playtest team and be part of the adventure by signing up for the Pulp Alley yahoo group. Thanks for your support!
Please visit our new Pulp Alley forum at:
http://pulpalley.com/index.php
HAVE FUN!
Dave
---
What is Pulp Alley?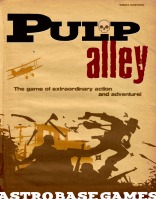 PULP ALLEY captures the thrill-packed excitement of the pulp genre, from the classic cliffhangers and pulp magazines of Doc Savage and The Shadow, to more modern adaptations like Rocketeer, Indiana Jones, and Sky Captain. Players may create, customize, and play their very own Pulp Alley heroes and villains, and an array of brave sidekicks, trusted allies, and loyal followers.

Designed primarily as a multi-player miniatures game. Each Pulp Alley game is jammed full of sinister villains, perilous mysteries, and plenty of two-fisted action.

PULP ALLEY is the game of extraordinary action and adventure!

---

All content copyright 2010 Pulp Alley. All rights reserved.